Welcome to Mr Noodle's Takeaway Site, Mr Noodle is cooking ramen at events right now, check back here for future takeaway dates.
When Mr Noodle is open for takeaway... You can select your collection day and collection window, and we will let you know when your order will be ready to colqlect (please keep an eye on your junk email too, and mark us as safe)(we usually email you after 5pm on the day of collection). Collection from 5-7 Chandos Road. If you would like your Mr Noodle ramen delivered - please order via Deliveroo.
Mr Noodle instagram.
Welcome to Mr Noodle. We are Michelin trained chefs who cook Ramen for fun.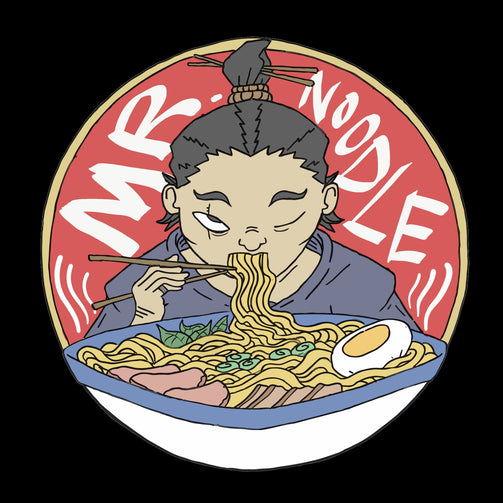 Ramen

4

products

Sides

4

products
Who is Mr Noodle?
 We are Michelin trained chefs who, during lockdown, started cooking Ramen for fun. We have always loved Japan, and the culture that is Ramen.
As major Tokyo visitors, 3 years as a chef in a Japanese fine dining restaurant, and many, many, many, bowls of hot delicious ramen, we have decided to share Japan's national obsession of Real Ramen with Bristol. A bowl of Ramen is more than a bowl of soup, more than a meal- it's a way of life- with the fulfillment of a big warm hug.
The ramen story originated in China, strayed into Japan, and became a serious Japanese food following WW2- Japan short on food resources - America with an abundance of pork + wheat -et voila the yakuza controlled black market ramen yatai was born- serving Ramen 'stamina food' in bombed out cities.
Mr Noodle takes his inspiration from Tokyo backstreet food alleys, if you were to walk down here any day of the week, any time, your senses overwhelmed- busy bustling ramen bars, lines of small stools, Japanese men finding brief oasis slurping their umami bowls of delicious ramen.   In the steam-thick air ramen chef boasts of the best master-stock bouncing against each other like sumo bouts. Giant pots of water boil; aromas of chashu pork; tempura mountains; no conversation, just slurping; break that shoyu egg; city slow motion; on the precipice of inner calm; revitalized, you go.
What makes Mr Noodle ramen the best takeaway delivery ramen in Bristol
The noodles- handmade traditional Japanese way using the finest quality wheat, water, kansui + time to rest the dough properly.  The master-stocks- warming, nutrient-rich broths - prepared for 8-14 hours - each style differing in ingredients, saltiness, richness, flavour and consistency – chicken, pork and beef sourced from local farms, and premium hand selected vegetables. 
How to make your food delivery order- order food online 
You can order your Japanese restaurant food through our website shop, you can also order through Deliveroo. You can order for right now, or you can order in advance to plan meals for your evening or week ahead right now! Your 'food delivery near me'.
Mr Noodle Japanese food kitchen is in proximity for delivery to St Micheals Hill, Stokes Croft, Cotham, Redland, Brandon, St Pauls, Kingsdown, Lewins Mead, Bristol University, Tyndalls Park, St Andrews, University of Bristol, Bishopston, Clifton, Montpelier, Park Street, Clifton Triangle, Gloucester Road, Henleaze, Stoke Bishop, Westbury on Trym, Redcliffe, Temple Meads, Cabot, Bristol Students Union, Clifton Village. You can order through deliveroo for Your 'food delivery near me'., or collect from our kitchen on Chandos Road BS6 6PG.